Digital TV Broadcasting Equipment
Digital TV Broadcasting Equipment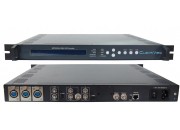 From encoders to modulators, Kristal Electronics can provide for all of your broadcast equipment needs
With over 30 years' experience within the professional and domestic satellite TV and terrestrial antenna receiving systems sector; it's safe to say that Kristal Electronics is the name to trust when it comes to digital broadcasting equipment in Australia and right across the world.
Adhering to stringent product testing, we're proud to offer an excellent range of high quality TV broadcasting equipment at a low cost. All at competitive prices, our collection includes encoders, modulators, multiplexers transcoders and IP streamers.
All of our digital broadcasting equipment is DVB compliant including DVBT, DVBT2, DVBs and DVBS2 equipment.
With Australia-wide delivery, browse through our range of digital TV broadcasting equipment below