Digital Modulators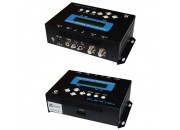 Delivered Australia-wide, choose from our range of standard and high definition digital TV modulators
Building on over 30 years' expertise within the digital and satellite television industry, Kristal Electronics is the premier supplier of products in Australia and across the globe.
Our range of digital TV modulators is no less, enabling you to distribute your AV signals throughout your home or workplace by RF – distribute your AV sources such as DVD or Pay TV to all your digital TVs at the same time. You can do it in HD with HDMI, HDCP or YPbPr, and in SD with CVBS. The signal can be received by a digital TV or Terrestrial set top box.
For more information, please contact us today.
Distribute your AV signals across your home or workplace by RF with our quality digital TV modulators