Digital Satellite Receivers
Digital Satellite Receivers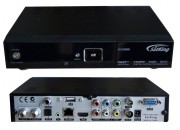 Watch perfect digital TV anywhere in Australia with our range of HD satellite receivers
Satellite television can be received with a satellite dish and satellite receiver. There are two main bands: KU band and C band.
KU band
KU band dishes are usually 0.6 to 1.2M in diameter
Usually carries the PAY TV and Free to Air VAST channels
C band
C band dishes 1.8 to 4M in diameter
Carries mostly International content
We can supply portable satellite receiving systems for the VAST channels so you can watch perfect digital TV anywhere in Australia – view our satellite TV products for travellers. To learn more about Satellite Television, please visit our FAQ page.
Browse through our range of HD digital satellite receivers below